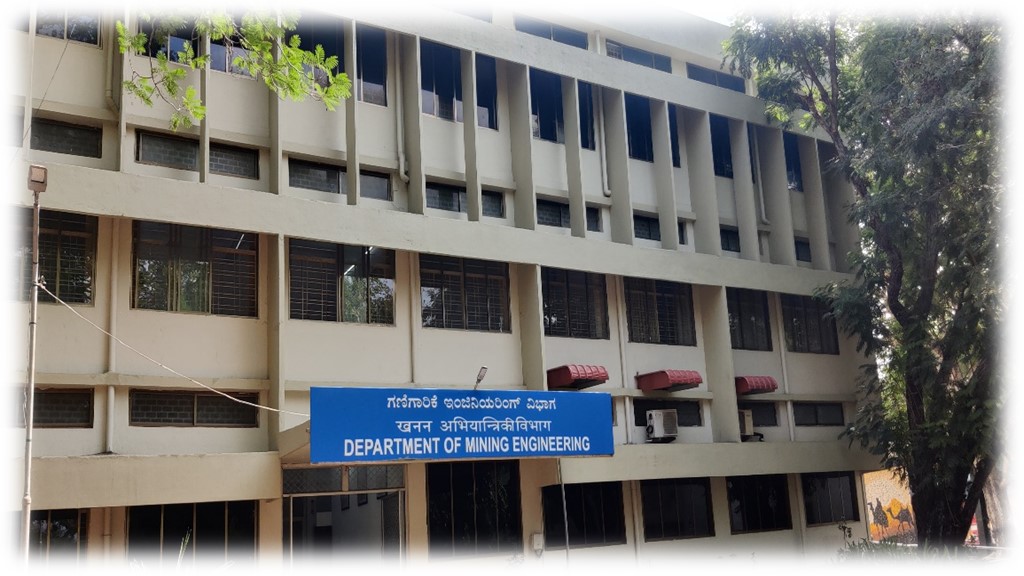 Vision
---
To produce Mining Engineers of high caliber, fully equipped with state-of-the-art technology, to cope with the challenges of Sustainable Development in the Mining and Mineral Industry.
Mission
---
To be recognized as a premier Mining Engineering Education Center by all stakeholders in the Mining and Mineral Industry.

To impart Quality Education for meeting the needs of the Mining Engineering Profession & Society, and achieve excellence through creative Teaching- Learning, and Research.

To inculcate the spirit of Sustainable Development and Conservation of natural resources through the advancement of technology in the exploration and production of minerals with due regard to Health, Safety, and Environment.
About the Department
The Department of Mining Engineering was established in the year 1984 and around 630 undergraduates passed out from the portals of the department till 2021-2022. Several girls obtained their B. Tech Mining Degree from this department. The Department also offers M.Tech (Research) program in Rock Excavation Technology and Management and Ph.D. in Mining Engineering. The department celebrated its Silver Jubilee during 2009-10.  
The department has on its roll four Professors, three Associate Professors, one Assistant Professors and one Temporary Faculty. The faculty members have the right blend of industry, teaching, research, consultancy, and administrative experience resulting in multi-dimensional and multi-disciplinary activities within the institute and outside. The faculties of the department have received several awards and honours from Government and reputed Professional Bodies. Some of them are serving as Editors of National and International Journals and Reviewers of several Professional Journals in their area of expertise. All the faculty of the department visited reputed Universities and research centers in the USA, Australia, France, Thailand, and South Korea for research interaction and paper presentations. The department is also engaged in teaching inter-disciplinary subjects and guiding B.Tech and M.Tech projects which are inter-disciplinary in nature.
The department received grants from The Hutti Gold Mines Company, Uranium Corporation of India, and Neyveli Lignite Corporation for instituting Gold Medals for the best outgoing students of Mining Engineering which are being named as "HGML Gold Medal", "UCIL Gold Medal" and "NLC Gold Medal" respectively. Doddanavar Brothers Pvt. Ltd. has instituted the "Silver Medal" for the second-best outgoing student of the department. The Department is actively involved in student activities through the Society of Mining Engineers, NITK Chapter, and successfully organized 1st SME NITK Annual Convention on 06th-07th March 2020, 2nd  SME NITK Annual Convention on 05th-06th March 2021, and 3rd SME NITK Annual Convention on 11th-12th March 2022 and 4th SME NITK Annual Convention on 04th – 06th October 2023.
Information Brouchure: acrobat.adobe.com/id/urn:aaid:sc:AP:4f368ce4-7073-4604-9ba8-f7b447f19787